How Busways Can Lead Pittsburgh Into An Equitable Public Transit Future
---
How Busways Can Lead Pittsburgh Into An Equitable Public Transit Future
April 10, 2019
By Ryan Deto
Read More:
https://www.pghcitypaper.com/pittsbu...t?oid=14594516
Quote:
Pittsburgh has the most extensive busway system in the entire country. There are about 19 miles of grade-separated, traffic-free busways that spread across three lines throughout Allegheny County. The East Busway, which runs from Downtown to Swissvale, is one of the most efficient non-heavy rail transit corridors in America. When compared to other transit lines in mid-sized Rust Belt cities, the East Busway is arguably the best, carrying around 24,000 riders a day.

- But Pittsburghers generally don't see busways as a unique asset. In fact, many people don't even know they exist. Most stations are cast-off under bridges or surrounded by blight. Unlike transit stations in cities like Boston or Berlin, most of Pittsburgh's busway stops lack retail and housing development nearby. The busway lines, East, South, and West, aren't always seen as worth expanding. When transit proposals are discussed in Pittsburgh, the ideas usually sought after are a light-rail to the airport, building new highways, or even more ludicrous ideas like the hyperloop or ziplines. — Local advocates, urban-policy specialists, and public-transit experts are trying to change that. They laud the busways for their importance to the region's transit, but they see a unique opportunity in Pittsburgh to expand them, increase their marketing, and redevelop the land surrounding their stations.

- Those changes could reduce traffic, lower greenhouse-gas emissions, decrease cost-of-living expenses for thousands of residents, revitalize neighborhoods, and combat income inequality. It may sound too good to be true, but increasing affordable and convenient access to the more than 150,000 jobs in Downtown Pittsburgh, not to mention the thousands more that could be created along the busway with redevelopment near several stations, could be game-changing in terms of fighting poverty. — Christof Spieler is a transit expert who wrote an atlas of America's public transit systems called Trains, Buses, People. He visited Pittsburgh last year during the Rail~Volution transit conference, and was amazed at the efficiency and practicality of Pittsburgh's busways, but believes they can be vastly improved. "[The busways] have amazing potential and I feel like Pittsburgh isn't doing enough to maximize that," says Speiler. "They are marketing to the public like they are just regular buses, when they are not."

- Proposals exist and advocacy is growing, but backers say making improvements will come down to whether Pittsburgh leaders apply the political will and the desire to boost the busways. Will everyone get on board? At the time of their construction in 1977, Pittsburgh's busways were revolutionary. Utilizing existing right-of-ways from trolley lines and the Pittsburgh Railways Company, the guideways operated like light- or heavy-rail train lines, but with buses instead of rail cars. — The South Busway, which runs alongside the Blue light-rail line from Beltzhoover to Overbrook, was completed first. The East Busway, later renamed the Martin Luther King Jr. East Busway, was completed in 1983 to Wilkinsburg and later extended to Swissvale in 2003. Before the East Busway was completed, travel times from Wilkinsburg to Downtown were about 45 minutes; now it takes about 15 minutes on the busway.

- In 2000, the West Busway opened and now transports passengers from Carnegie to Elliot in the West End. They are all owned and operated by the Port Authority of Allegheny County. According to the most recent Port Authority figures, average weekday ridership on the busways is about 35,500, which is about 15 percent of weekday ridership. The East Busway alone carries just a bit fewer passengers everyday than both the Red and Blue light-rail lines combined. According to Pittsburgh's bid for Amazon HQ2, the busways could immediately accommodate up to 60 buses per hour and expand by 200 percent without major capital investments. — One of the advantages of busways is buses can exit the guideway and ride on regular city streets. Spieler says this allows them to service low-density suburbs and bring in more riders to the busway, where commutes are quick.

- And since Pittsburgh has experienced and continues to experience suburban sprawl, busways are likely the best way to service the region, says Spieler. Busways also allow for emergency vehicles to skip traffic, something light-rail can't offer. It's why the East Busway, which is about nine miles long, can have the high ridership of about 23,600 people a day. For comparison, a nine-mile light rail line in Charlotte only brings in about 16,500 riders a day. Spieler says the simplest way to raise the profile of Pittsburgh's busways, and potentially increase their already robust ridership figures, is to market them as they were originally intended. — He says the Port Authority should rename the East Busway the Purple Line, the South Busway the Yellow Line, and the West Busway the Green Line, and have buses that ride on each busway match those corresponding colors. The reason each busway route starts with P, G, or Y is because each busway was originally assigned the color purple, green or yellow.

- Spieler says this would indicate busway buses are different than those on other lines. A busway bus only takes 11 minutes to get from Downtown to East Liberty while a car in no traffic takes 15 minutes. Even without branding and other improvements, Pittsburgh's busways still outperform other BRT-like systems in the country. Per guideway mile areas where the buses are completely free of other traffic, Los Angeles busways carry about 877 passengers daily, while Pittsburgh carries about 1,921 passengers. — Once a rebrand is complete, Spieler suggests making stations more accessible to pedestrians and people with disabilities. Many stations typically have access only on one side of the busway. Increased access to busway stations should be a development priority too, says Chris Sandvig of the Pittsburgh Community Reinvestment Group (PCRG). He says more stations should be surrounded by dense mixed-use development that combines housing, retail, office space, and amenities; what he calls "transit orientated communities."

.....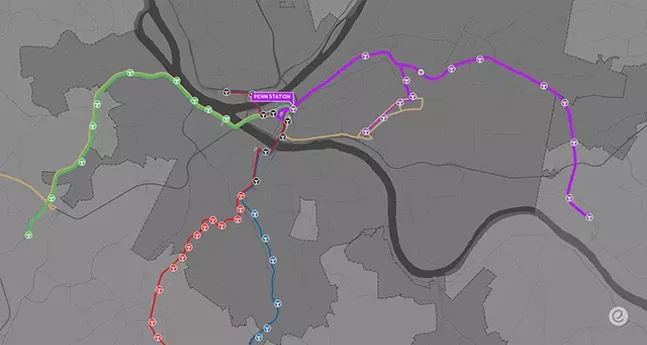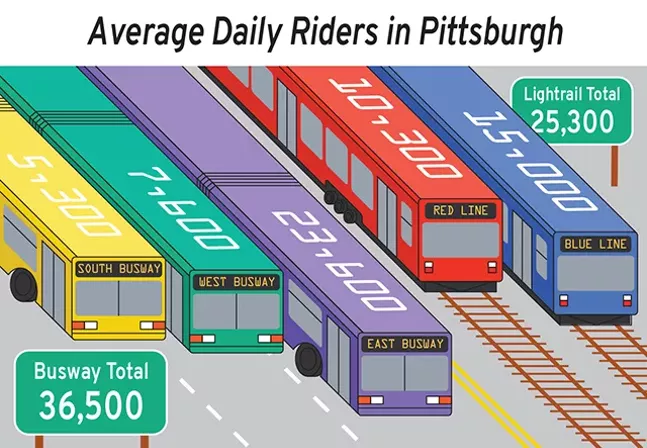 __________________
ASDFGHJK