Registered User

Join Date: Aug 2002

Location: Toronto

Posts: 45,939
How Density Can Deter Growth in America's Largest Metros
---
How Density Can Deter Growth in America's Largest Metros
March 15th, 2019
By RICHARD FLORIDA
Read More:
https://www.citylab.com/life/2019/03...e-fast/584890/
Quote:
Over the past few decades, large cities and metros have captured a disproportionate share of economic growth, while smaller places have seen significant economic decline. But what exactly accounts for such a divergent economic pattern?

- A new study by economist Jordan Rappaport of the Federal Reserve Bank of Kansas City sees two very basic factors at work: the size and density of cities. On one hand, size (in terms of population and employment) is a huge advantage. Bigger places inexorably grow bigger. And this is especially true for relatively large cities (up to 500,000 people) with plenty of space to grow. For these places, their initially large populations beget faster growth over time. --- But, on the other hand, density cuts the other way and can slow growth for very large places. This would seem to be at odds with urban theories from Jane Jacobs and others, that view density and clustering as an essential spur to innovation. But Rappaport finds that density generates diseconomies like traffic congestion or expensive housing costs, which limit growth.

- Rappaport summarizes the key takeaways this way: "Population growth is positively correlated with size up to a population of about 500,000, uncorrelated with increases in size from 500,000 to 3 million, and negatively correlated with increases in size above 3 million." So, why the fall off in growth for the very largest places? This is where density comes in. Density does bring many benefits in the form of increased clustering of businesses and ultimately increased rates of innovation and productivity. But it also brings significant costs, or diseconomies, like traffic congestion and extremely high housing costs which can limit growth. --- Using a measure of population-weighted density, the study finds density to be negatively correlated growth with the largest places.

- Rappaport proposes that an economy is a spatial equilibrium: net flows of residents and employment slowly reach a balance. People may not be able to benefit by moving to a larger city because even with higher wages and more amenities comes a higher cost of living, higher housing prices, and other diseconomies. Businesses face similar problems, too. --- The combined effects of these flows of people and jobs accumulate slowly over time. The largest, densest places tend to see their growth falter and stall, while mid-sized places have more room to grow and can see their growth accelerate. Meanwhile, small places have lots of things that hold them back. --- Rappaport's findings have important implications for public policy. Smaller places which have assets like natural amenities, universities, and arts and culture should build on them to attract talent and spur growth.

- But for the majority of small places that lack these kinds of characteristics, "public policy may be more effective ameliorating the negative consequences of decline than reversing it," Rappaport cautions. For large, dense places, the key is to deal with the diseconomies brought on by density by alleviating traffic congestion through investments in mass transit or congestion pricing; or by reducing housing prices by eliminating land use restrictions, building more housing, and providing more affordable housing. Rappaport cautions against the use of large tax and financial incentive packages which confer targeted benefits to individual companies. --- He especially warns of the downsides of luring large employers, like Amazon's HQ2, to superstar cities like New York, which are likely to exacerbate their already existing problems of high prices, traffic congestion, and other diseconomies of density.

.....
Population Growth versus Initial Population, 2000-2017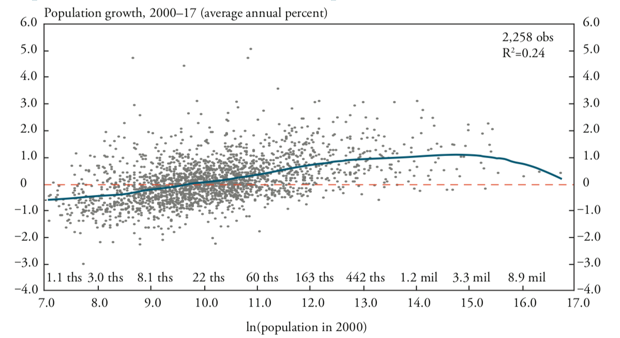 Growth versus Initial Population, Medium and Large Metropolitan Areas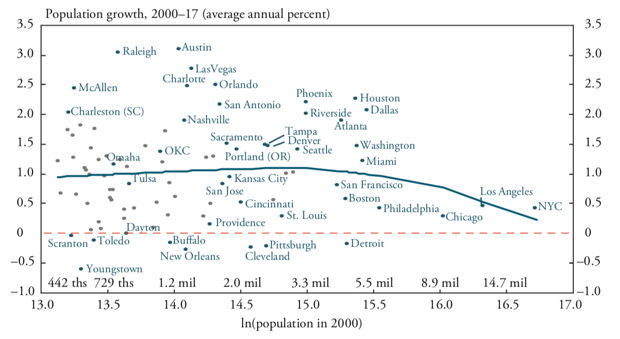 Historical Population Growth versus Initial Population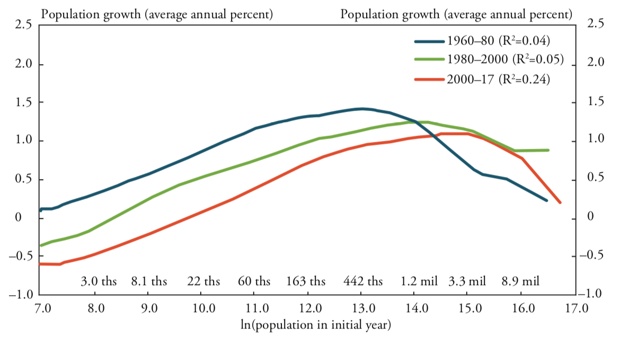 Employment Growth versus Initial Employment, 2000–14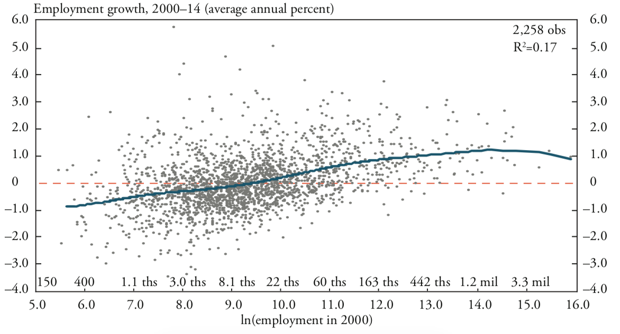 Growth versus 95th Percentile Population Density, Medium and Large Metropolitan Areas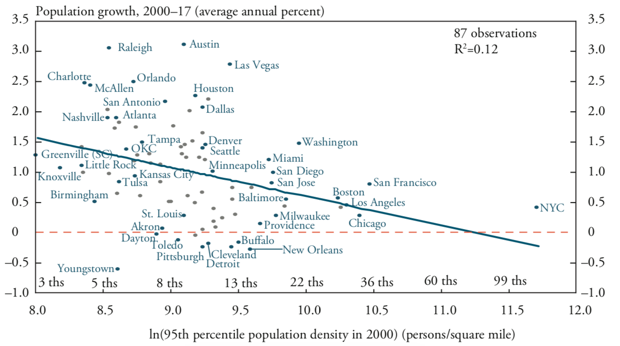 __________________
ASDFGHJK