Registered User

Join Date: Dec 2016

Location: San Francisco

Posts: 11,201
SAN FRANCISCO | 1028 Market St | APPROX 130 FT | 13 FL
---
Quote:
SF housing breaking ground on troubled Mid-Market block that housed strip club
J.K. Dineen
Oct. 7, 2019

One of Mid-Market's most glaring cavities is about to be filled.

Three years after winning approvals to develop 193 rental apartments at 1028 Market St., developers Olympic Residential Group and Tidewater Capital will break ground this week. It's a long-awaited housing complex that Mid-Market boosters hope will improve a block that has struggled with drug dealing and crime, even as much of the neighborhood has seen a big influx of investment.

Construction crews are set to begin demolition Monday on the two-story 1907 building that has housed a theater, a billiards parlor and a strip club. Most recently it was home to the Hall, a temporary gourmet food market that Tidewater operated from 2015 to 2017 while seeking approvals. The site has been vacant since the Hall closed in October 2017.

Like other market-rate developments in San Francisco, 1028 Market has been slow to get going as rising construction costs have made projects increasingly infeasible. The cost of the $120 million project has escalated 25% since 2017 and nearly doubled since it was proposed in 2014.

While the project may be starting later than hoped, Dan Deibel, founder and principal of Olympic, said the time was spent honing the design. The project site is sandwiched by buildings on busy Market Street and sits atop the BART tube, which presents unusual construction and engineering challenges, he said.

The additional scrutiny also persuaded the development team to eliminate the 44 parking spaces in the original plan. The project will have 124 bike spaces — but no spots for cars. Underground parking spots cost about $60,000 apiece to build . . . .

The building will have 6,000 square feet of retail, including a cafe, as well as a clubroom, fitness center and roof-deck with fire pits and barbecue grills. The development includes 26 below-market-rate units as well as a mix of studios, one-bedroom, two-bedroom and three-bedroom units . . . .

https://www.sfchronicle.com/bayarea/...photo-18380261
Renderings: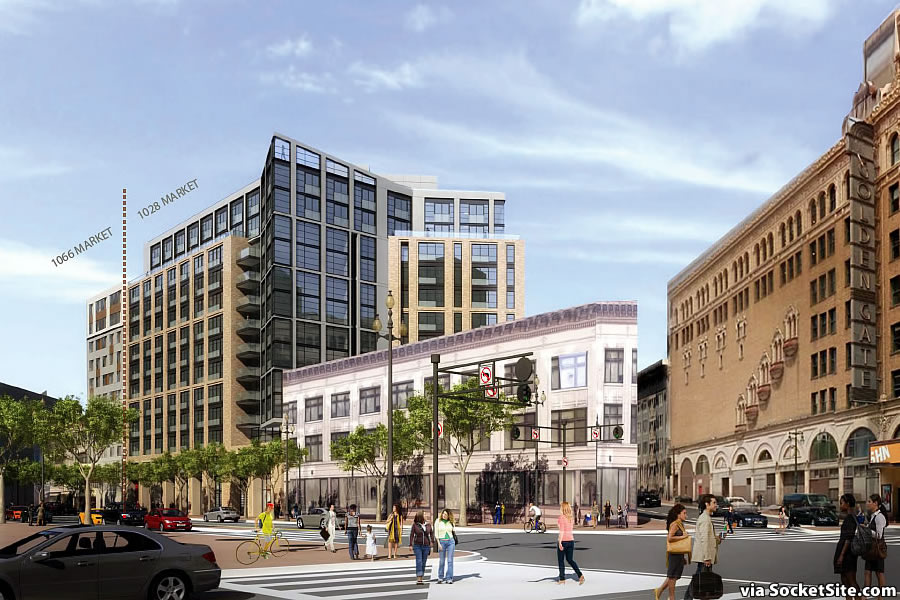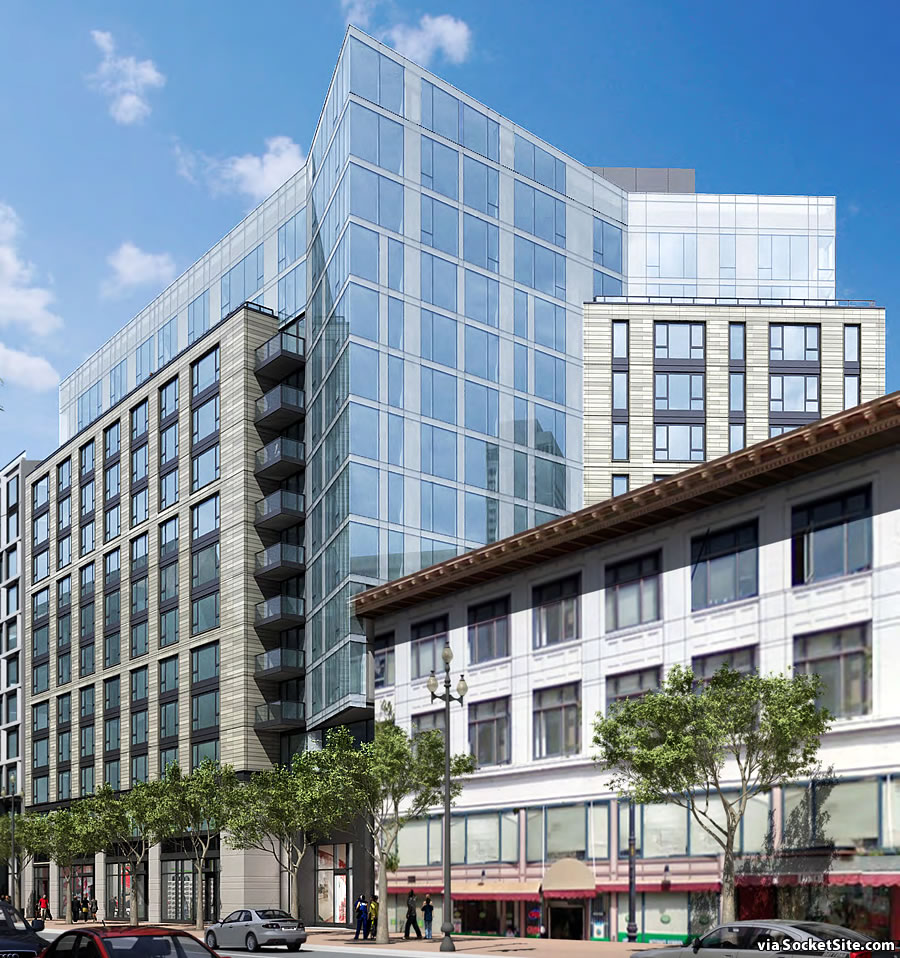 Image Source:
https://socketsite.com/archives/2019...ak-ground.html