Cognitive Architecture, Designing for How We Respond to the Built Environment
---
Making the Case for Symmetrical Cities
Oct 8, 2015
By ANTHONY FLINT
Read More:
http://www.citylab.com/design/2015/1...cities/409690/
Quote:
.....

The symmetry of red brick, perfectly positioned front doors and 12-pane windows has a soothing effect. It tells us all is well in the world, that there is order, and indeed that we're connected to that equilibrium. In evolutionary terms, we sense a friendly environment; we're going to have food, and we're not going to be eaten. Survival of the tidiest.

- Can so much really be wrapped up in what we see? So says the architect Ann Sussman, co-author with Justin B. Hollander of Cognitive Architecture, Designing for How We Respond to the Built Environment. "The brain sees the symmetrical faster," she said at a talk recently at the Institute for Human Centered Design in Boston. "We see what nature wants us to see." --- Over time, mammals have developed a way to prioritize visual processing, to make split decisions about friend or foe. One of the most instantly processed images is the symmetrical face—eyes, nose, and mouth—and we feel better when we see it (this is true even though, researchers now posit, facial symmetry does not appear to be connected to good health).

- For whatever reason, our brains seem to have symmetry pre-ordered, in copy and paste, on auto-dial. The pre-set brain is "at the ready to perceive upright face-like input instantaneously," Sussman wrote recently in Metropolis. "We create our worldview via this evolutionary 'scrim', or blueprint, subconsciously seeking out faces everywhere, all the time." --- Understanding the dynamic of that instant satisfaction, she says, could lead to better architecture, urban design, and placemaking. It has long been established that well-tailored design is pleasing not only to the eye but the soul, though the reasons for that have always been somewhat mysterious.

- What's different about the gospel that Sussman is spreading is that it's backed up by neuroscience. And, she says, entrepreneurs like Steve Jobs have long since figured out how to monetize our built-in preferences in what we see. It's no accident the iPhone is a golden rectangle. --- "Your subconscious is the gateway to your pocketbook," says Sussman, who is fascinated by the cottage industry of where the consumer's eye goes first, whether looking at an advertisement, a website, or an app. "Computer scientists are living this. They're obsessed." It is the design professions that could really use some of this focus-testing, she suggests.

- Modernists in the era of urban renewal missed the mark in anticipating the human response to places and spaces, and the result is millions devoted to the retrofitting of barren sites like City Hall Plaza in Boston. To get it right on the first go, just take a trip, virtual or otherwise, to Palladio's Villa la Rotonda, the 1567 structure in Vicenza, Italy, that has inspired hundreds of monumental public buildings, including the White House. --- There's something a bit triumphant and scolding about this, inherent in the neo-traditional and classical approach to design. The bottom line seems to be, why bother trying anything new, when we've already figured out what constitutes good design?

.....
A symmetrically pleasing edifice in Boston's Beacon Hill neighborhood.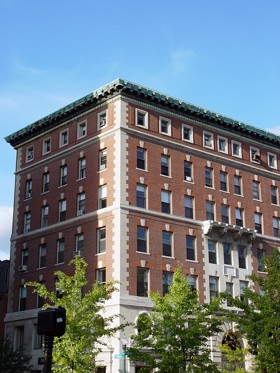 The classical Villa la Rotonda, designed by Andrea Palladio, in Vincenza, Italy. (InavanHateren / Shutterstock.com)
__________________
ASDFGHJK