Registered User

Join Date: Aug 2002

Location: Toronto

Posts: 44,555
Strait ahead: how Beijing is planning world's longest rail tunnel to link Taiwan to mainland
https://www.scmp.com/news/china/soci...il-tunnel-link
Quote:
.....

- If realised, shuttle trains could be whizzing through a 135km (84 mile) undersea section of the tunnel at up to 250km/h (155mph) by 2030. — Despite this technological progress, rising political tensions between the self-ruled island and Beijing, which regards it as a renegade province, mean that the scheme is unlikely to come to fruition any time soon.

- Politics aside, surmounting the project's technical tests would be a huge coup for China's scientific, engineering and construction corps, analysts said. "It will be one of the largest and most challenging civil engineering projects in the 21st century," said a government scientist who asked not to be named because of the project's sensitivity.

- Starting from Pingtan, a pilot free-trade zone area set up by Beijing in Fujian province in 2013 to boost trade with Taiwan, it would dive nearly 200 metres (218 yards), cut through complex layers of rock, including extremely hard granite, dodge at least two major earthquake faults and return to the surface in Hsinchu, a coastal city near Taipei.

- Two main passages would be used by trains running in opposite directions. In between them would be a smaller service tunnel that would contain power lines, communication cables and emergency exits. — The Chinese project, however, would separate itself from the pack – and the Channel Tunnel – with the breadth of its main tunnels.

- They would be nearly a third larger than their European counterparts, extending 10 metres in diameter. — A potential thorny aspect of the scientists' plan is that it would be necessary to create a pair of artificial islands in the middle of the strait for an air treatment station that would pipe fresh air into the tunnel. That requirement might further inflame rising tensions between Beijing and the self-ruled island.

.....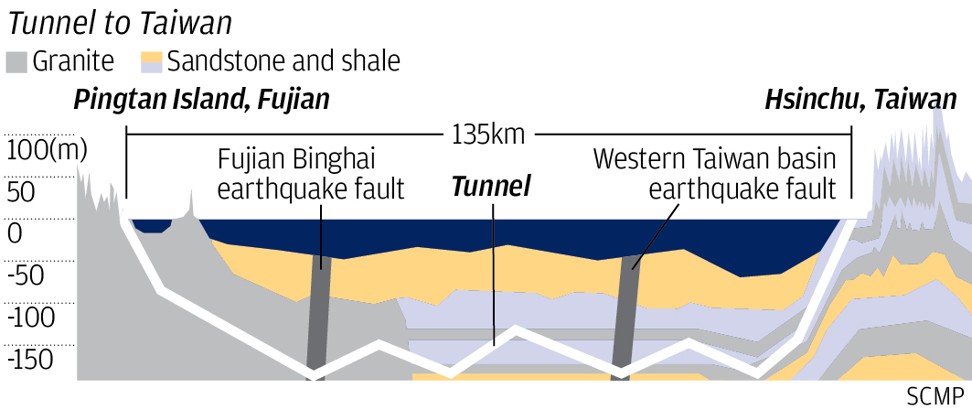 __________________
ASDFGHJK