Cleveland And Akron Metros Beat Midwest Averages In Some Key Areas
---
Cleveland And Akron Metros Beat Midwest Averages In Some Key Areas
October 18, 2018
By DAN SHINGLER
Read More:
https://www.crainscleveland.com/akro...some-key-areas
Heartland Study:
http://factbook.theheartlandsummit.org/#explore
Quote:
Cleveland and Akron are defying some stereotypes and doing pretty well and better than their Midwestern peers, in some respects. Those are among the findings of the Brookings Metropolitan Policy Program's Oct. 18 report, "The State of the Heartland: Fact Book 2018," which looked at data across 26 socioeconomic indicators in 19 states to gauge and rank the current condition and trajectory of cities and states. The geography in the report runs from Minnesota in the north to Georgia in the south, and east to west from Ohio to Nebraska. Cleveland and Akron are both cities with their own data sets within the report and the data's encouraging, Brookings says.

- "Ohio and Northeast Ohio perform quite well on our benchmarking, with the state progressing on job growth, its standard of living about average for the region, and the state in maintaining solid R&D at its universities. Most importantly the state's standard of living has been rising in recent years," said Brookings Institution senior fellow Mark Muro from the think tank's Washington, D.C., headquarters. Both cities scored above regional and national averages in terms of important indicators, including their poverty rates, median income levels, and the percentage of local residents between 20 and 64 with jobs the employment rate, as opposed to an unemployment rate. — The Cleveland area, which includes Elyria, fared slightly better than its smaller sibling. It was ahead of both the region and the nation in terms of its standard of living, median income, poverty rate and employment rate. It was also ahead of regional national averages in terms of the percentage of residents without broadband, at 3%. Akron, meanwhile, was not far behind.

- Brookings also looked at trendlines, between 2010 and 2016, or 2017 for certain data. The results showed both cities managed to move in a positive direction across all of the report's major indicators with the exception of population growth and, in the case of Cleveland, the percentage change in jobs at young firms. Both cities were essentially flat in terms of population growth between 2010 and 2017, with Cleveland being down 0.1%. — Muro said the report, which was prepared to support the Walton Family Foundation's inaugural Heartland Summit, taking place Thursday, Oct. 18, through Sunday, Oct. 21, in Arkansas, shows there's plenty of economic life beyond the coasts of the United States. The Midwest is simply not doing as poorly as many on the coasts might think, he said. "To an extent, we've gotten used to a lot of punditry, mostly coastal, that paints the region of the heartland as sort of this scene of American carnage job breakdown and the Rust Belt," Muro said.

- The region also is less expensive than the coasts, while still having strong entrepreneurial environments around major universities like those in Akron and Cleveland, Muro said. That's likely to cause money from the coasts to seek a home in Midwest investments, he added something that local entrepreneurs say they're already beginning to see in terms of where their capital comes from. — There's been evidence of that in Cleveland as of late, with money from the East Coast making substantial investments in downtown real estate, most recently with the purchase of the 1111 Superior Building by New York City investors. Los Angeles-based BioFlight, which makes virtual reality systems for hospitals, recently set up shop at the Austen BioInnovation Institute in downtown Akron. Meanwhile, the city's software startups report they're beginning to see interest from the East and West coasts, and Chicago-based venture capital firm M25 recently made its first Akron investment in SaberLogic downtown.

.....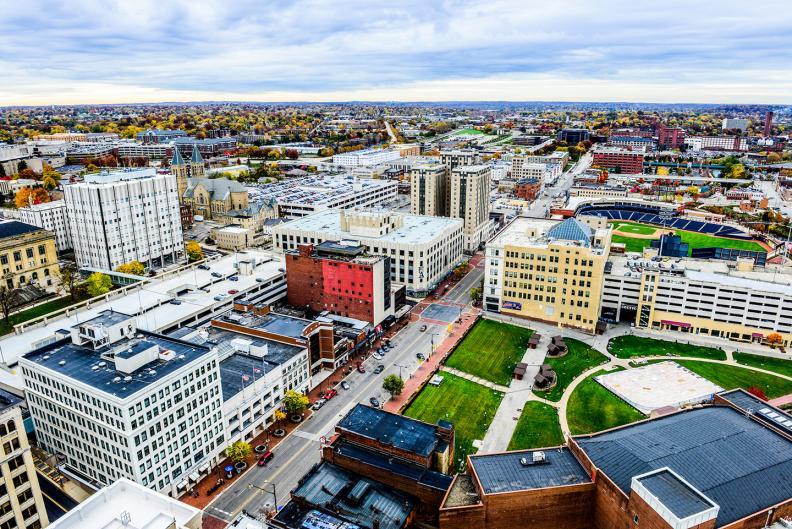 __________________
ASDFGHJK