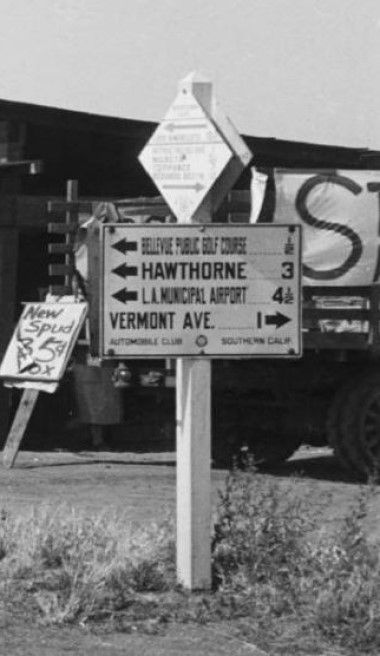 I'd guess that the fruit and vegetable stand was on the NE corner of Western Avenue and Imperial Hwy., then known as
114th St. The smaller sign at the top appears to have "Los Angeles" under its left-facing arrow, which must point north.
I think I can make out "Torrance" and "Redondo Beach," to the south, just above the right-facing arrow.
From Western and Imperial, it's about a mile east to Vermont and 1/2 mile west to the Belle View Country Club, as it's
called on the 1930 Inglewood USGS Map below (about where Van Ness is now). The north/south streets at the left and
right sides below are Prairie and Western, respectively. Cypress Avenue, the middle north/south street, must now be
Crenshaw. Just to the left of Cypress near the map's center, 114th Street is marked:
old file probably from
US Geological Survey
website