Design jury honours whimsy and skill
http://www.ottawacitizen.com/enterta...390/story.html
Exceptional urban projects get their due with awards
By Maria Cook, The Ottawa CitizenOctober 6, 2009 12:02 AM
OTTAWA — The City of Ottawa presented awards of excellence in urban design on Monday evening to a Queensway-facing office building, a single-family house in Centretown and a condo complex in New Edinburgh.
Here's the City site
http://ottawa.ca/residents/planning/...awards_en.html
Maria Cook has a list of the winners with pictures:
The 2009 Ottawa Urban Design Awards or "why can't we be more like Calgary?"
By
mariacook
Tue, Oct 6 2009
COMMENTS(0)
Designing Ottawa
Filed under:
urban design
,
pedestrian bridge
,
condos
,
competitions
,
architecture
Peter Hume, chair of the City of Ottawa's planning committee, compared Ottawa to Calgary tonight as he addressed the 2009 Urban Design Awards presentation at Arts Court.
The proposed footbridge in Calgary, for instance. It's bright red, designed by Spanish architect/engineer Santiago Calatrava and has a $24.-million price tag.
"We would never be able to do that in the City of Ottawa," said Hume. "The CFRA nation would eviscerate us. We spent $5 million on our pedestrian bridge. Remember how hard that was?"
For its $100-million National Music Centre, Calgary held an international design competition.
"Funny, we did too," said Hume. "We ended up with Lansdowne Live. They ended up with the greatest architectural thinkers in the world coming to design their music centre, an incredible array of ideas.
"That's where we should be," said Hume. "We should be striving and leading in the world on urban design."
Of 32 entries for the Urban Design Awards, three independent judges selected 10 projects in four categories — urban infill, public places and civic spaces, urban elements and student projects.
The winning entries will compete nationally in the Royal Architectural Institute of Canada's 2010 urban design awards.
The judges were Ian Chodikoff, editor of Canadian Architect magazine, Toronto architect Peter Clewes and Linda Anne Irvine, president-elect of the Canadian Society of Landscape Architects.
Without further ado, the winners:
Award of Excellence - Urban Infill (low-rise)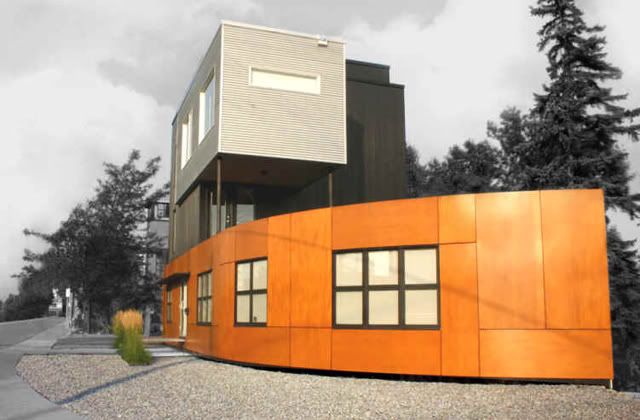 Chamberlain Offices, 76 Chamberlain Avenue
Located between the Queensway and the Glebe's Central Park. The highway face is composed of boxy black and aluminium volumes and a long curving mahogany wall, sitting on a bed of gravel landscape. Glass is dominant on the park face.

Jury comments: "This project is a skillful solution to a challenging site that is shaped by somewhat harsh, toxic urban conditions. The building and urban space is a positive visual cue and provides a sense of landmark along an industrial-type service road. The rear yard is soft and offers a place of discovery, and a nice buffer to safely use the adjacent park."
Project Team: James A. Colizza Architect Inc., James Colizza
Award of Excellence - Urban Infill (low-rise)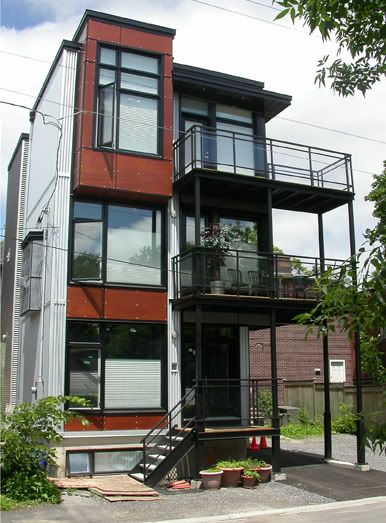 57 Lewis Street
A single-family house on a through-lot located along the only block in the Golden Triangle that has no buildings on the north side of Lewis Street — only backyards and parking.

Jury comments: "This is a precedence-setting project along the street, which reclaims space that is otherwise oriented to cars. The project has good intentions and legitimately uses modest materials in a quality piece of architecture. This project creates a new type of street façade and is a paradigm shift for this portion of Lewis Street."
Project Team: Jacques Hamel, Hamel Design; Rod Gillard, Genivar Consulting Group Ltd.; Flo Conti, Conti Corp.
Award of Merit - Urban Infill (low-rise)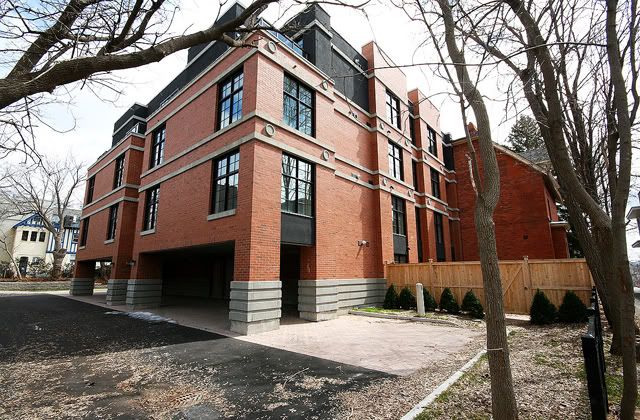 Strathcona on the Parc, 417, 419, 421 Laurier Avenue East
A 10-unit residential restoration, renovation and infill project located in the Sandy Hill Heritage Conservation District. The development features the restoration of the two existing Queen Anne Revival heritage houses, and a new 17,000-square-metre, four-storey addition at the rear of the property to accommodate eight new residential condos.

Jury comments: "A clean, clear and honest infill project with good scale and proportion. The project is a sympathetic juxtaposition without crowding the adjacent buildings. It uses high-quality materials, fits well among the established character and streetscape, and appropriately considers and treats all façades."
Project Team: Barry Padolsky, Michael Kelly, Barry Padolsky Associates Inc. Architects; Massoud Yazdani, M & E Engineering Ltd.; Adam O'Connor, Todd Perry, McIntosh Perry Consulting Engineering Ltd.; Tom Stevens, Dan Carson, Halsall Associates Limited; James Douglas, Douglas Associates Landscape Architects Ltd.; Keith Sim, Paul Daoust Construction Canada Ltd.; Peter Doig, 421 Laurier Avenue Ltd.
Award of Merit - Urban Infill (low-rise)
Montmartre on the Market, 224-230 Dalhousie Street, 114-126 Guigues Avenue
Located at the corner of Dalhousie Street and Guigues Avenue, it incorporates one residential heritage building, one new semi-detached, one heritage commercial building with apartments above, two new townhouses, one new duplex, and twelve new condominium units, with main street commercial, all clustered around an interior courtyard. Underground parking.

Jury comments: "This is a complex, noble project. The scale is very good; it is a scale that more cities need to help repair their dispirited areas. The design is eclectic without begin pastiche. Overall the project is pleasant and fits well into the streetscape, almost like it has always been there. This type of development is not easy to realize, but should still be encouraged for all cities."
Project Team: Doug Hardie, Marcel Pelletier, Douglas Hardie Architect Inc.; Jim Lennox, James Lennox & Associates Inc.; Peter James, Novatech Engineering Consultants Ltd.; Massoud Yazdani, M & E Engineering Ltd.; Greg Clunis, Integral DX Engineering Ltd.; Neal Hardie, Photographer; Paul Justice, L.A. Group; Marnie Bennett, Bennett & Company; Steve Cunliffe, Dalhousie Street Inc. c/o Regional Group of Companies
Award of Excellence - Urban Infill (mid- to high-rise)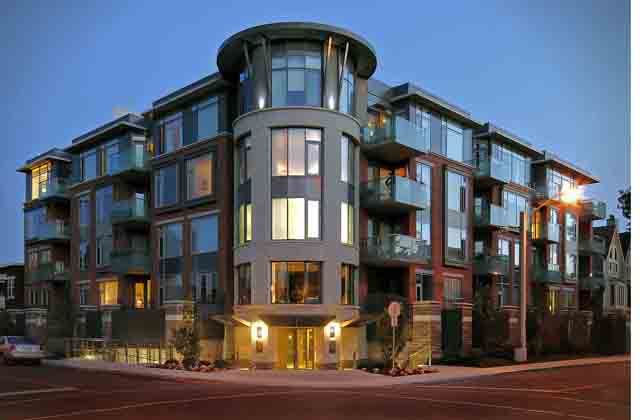 Mackay House, 295 Mackay Street
A five-storey condo building situated on a corner lot, fronting MacKay Street to the north and Dufferin Road to the west. The site allows the introduction of a corner feature that faces the Rideau Hall grounds, home to the Governor General. The circular tower is in stone, glass and copper.

Jury comments: "The development is a convincing example of an end-of-block infill project; it is an architectural anchor that defines the residential avenue. The project is skilfully proportioned and scaled, and develops a clear sense of rhythm. If I lived in this neighbourhood I would be happy the Mackay House was built. This project is a labour of love, by a committed developer who enjoys their work."
Project Team: Barry J. Hobin, Barry J. Hobin & Associates Architects Incorporated; Ken Pidgeon, ZW Group Inc.; Peter Goodeve, Goodeve Manhire Inc.; Mike Green, David McManus Engineering Ltd.; John Scrivens, Genivar Consulting Group Ltd.; Gerry Larocque, Larocque Levstek; John MacDougall, Uniform Urban Developments

Award of Merit - Public Places and Civic Spaces
Sandy Hill Flood Control and Park Rehabilitation, 250 Somerset Street East
Grade changes were used to shape a new landscape with natural slopes and high impact stonewalls. The stormwater management pond, which sits above the underground storage tank and is one meter below the surrounding pathways in the centre of the park, can be utilized as a multi-sport field in the summer and an ice rink in the winter.

Jury comments: "An engineering feat that is married with the landscape, and that improves the community. This project has well-articulated edges, deals effectively with surface water and goes beyond typical engineering solutions. The urban space also excites the community and offers them unexpected recreational opportunities."
Project Team: Adrien Comeau, Brett Byce, Stéphane D'Aoust, Chantal Gaudet, James Ricker, Jeff Deloyde, Stantec Consulting Ltd.; Action Sandy Hill, Doran Contractors Ltd.; Darryl Shurb, Paul Landry, Joanne Moran, Eric Tousignant, George Blake, City of Ottawa
Award of Merit - Urban Elements
Cancer Survivors Park, Industrial Avenue and Alta Vista Drive
Located at the junction of Alta Vista Drive, Riverside Drive and Industrial Avenue, the Cancer Survivors Park features a large circular walkway, trees and public art; seven flowers, six metres high, a tall stainless steel sculpture called 'Shine' and the sculpture 'Cancer, there is Hope'.

jury comments: "The Cancer Survivors Park incorporates many interesting elements and public art pieces that celebrate our cultural aspects. The project defines a crossroads in the community that can be experienced by car, is diverse, and employs good workmanship. The design and execution of the Park involves great skill and care in detail; a lot of experience went in to designing this park."

Project Team: Steve Sunderland, Corush Sunderland Wright Limited; Chuck Merovitz, Committee Chair, Cancer Survivors Park; Vangie Rich, R.A. Bloch Cancer Foundation; Kathleen Grimes, Site Preparation Ltd.; Linda Eagan, Ottawa Regional Cancer Foundation
Special Jury Prize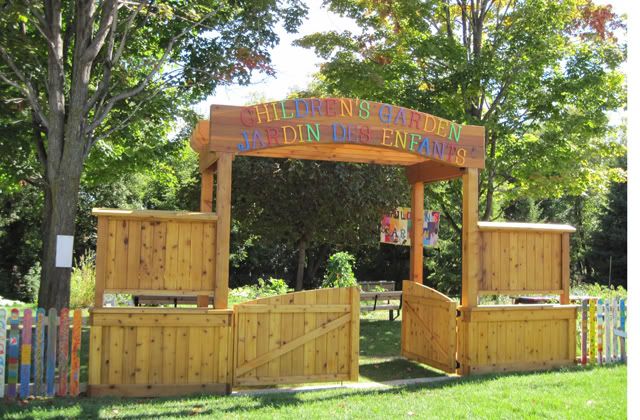 Children's Garden of Old Ottawa East, 321 Main Street
Thanks to the work of a dedicated group of volunteers, an underutilized park, which is bordered by a high-speed commuter artery (Main Street), has been transformed into Ottawa's first and only Children's Garden — a place where children can till the soil, plant seeds, hunt for bugs, pick berries and hide away in a bean tepee.

Jury comments: "This project breaks-down the barriers and professionalism in planning. It involves a community taking ownership of its open space through successful engagement - a sentiment we need more of. The garden is imaginative and uses delight and whimsy in defining a community space. This project demonstrates that a park can capture the imagination of children through proper dialogue, inclusiveness and clever educational programs, without building a traditional play structure."
Project Team: Students and staff at Lady Evelyn Alternative School (Jennifer Dawson's class, in particular); Sustainable Living Ottawa East; past and current members of the Children's Garden Advisory Group, including Annette Hegel, Alan Kenworthy, Rebecca Aird, Aamina Badran, Denise Landry, Stephanie Pineau, Isabelle Leclerc-Morin, Candace Hebert, Chris Osler, Erin Kaipainen, Leah McDonald, Michael Friedman, Justin Van Dyk, Julia Sneyd and Mike Shahin; Sue Bramley and Parks and Recreation staff, City of Ottawa; Sandy Hill Community Health Centre; Student Experience Office of Carleton University; Christiana Fizet, Summer 2009 Garden Co-ordinator; Main Farmers' Market; Corporate Council on Volunteering; Community Foundation of Ottawa; Walmart-Evergreen Green Grants; Brian Sindall, Construction Lines; Jeremie Dicaire, Trim to Perfectio


Award of Merit - Student Projects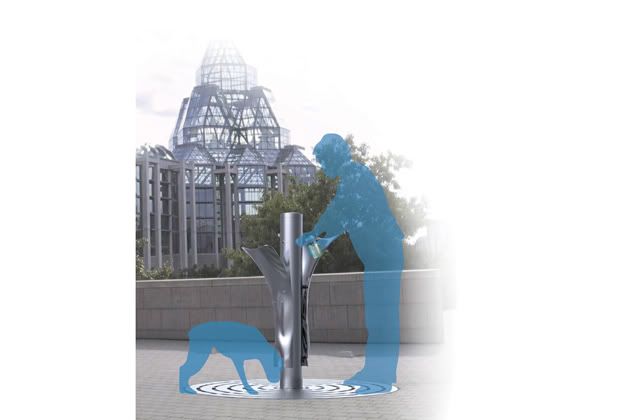 Cascade Public Drinking Fountain
For people and pets, aims to make it simple to drink from and fill reusable containers.

Jury comments: "A beautiful project organized in a concise, non-verbal way that effectively illustrates and documents the evolution of the design process. The Fountain is sensitively imagined, well tested and thoughtfully presented."
Project Team: Michael Tomlin, Student, Carleton University, School of Industrial Design
Award of Merit - Student Projects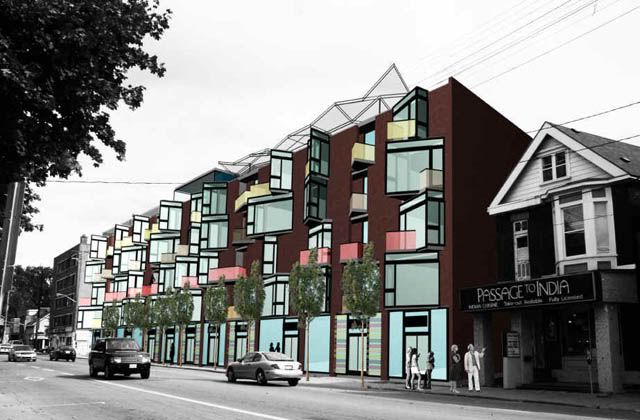 Urban Nature, 560 Rideau Street
A theoretical project along Rideau Street, between Coburg Street and Charlotte Street. The project features a range of residential unit types, including live/work. It proposes ground-floor commercial units, institutional uses and a rooftop garden.

Jury comments: "This is an ambitious project that packs a lot in to the site. The programming mix is interesting and the variegated street façade and internal world are well done. The development also creates a new use for the laneway. This project is dynamic and pro-active; it is not afraid to make mistakes."
Project Team: Nicholas Pangallo, Student, Carleton University, Azrieli School of Architecture and Urbanism