Registered User

Join Date: Aug 2002

Location: Toronto

Posts: 44,114
Plan: Abu Dhabi 2030
---
Country focus: United Arab Emirates
05 March 2010
By Simon Light
Read More:
http://www.building.co.uk/story.asp?...de=3159243&c=1
Quote:
The end of the year could see a more robust performance from the UAE economy, but for the time being it's displaying only the most anaemic of recoveries. Simon Light of EC Harris in Dubai reports

- There was a steep decline in property activity last year as the global credit crisis took hold of Gulf Co-operation Council (GCC) markets. The resulting lack of liquidity still grips the development market, although there are cases of continuing investment from private developers, and government-backed investors/developers are completing schemes they were already committed to.

- The vision of Abu Dhabi as the region's business and cultural hub is underpinning its continued growth. The population of the emirate is on course to pass 5 million by 2030, which is likely to put pressure on its healthcare, education, leisure, transportation and housing sectors.

- Looking further ahead, Masdar City, the world's first zero-carbon, zero-waste city, is under way in Abu Dhabi. The $22bn (£14.6bn) development will create a new, 6 million m2 sustainable development that uses the traditional planning principalsof a walled city combined with existing technologies. The development will accommodate 50,000 residents and 1,500 clean-tech companies, and will be powered by renewable energy.

- Another novelty is that the development will be car free. The plan is to build the scheme on two levels: street level for pedestrians, bicycles, shops, schools and homes, and an underground level where driverless taxis will move around using magnets on the surface to orient themselves.

- The planned GCC rail freight and passenger network will be 2,100km long when completed and will connect all six GCC states. The line will cross three deserts, potentially two expanses of water and is predicted to cost at least $15bn. In the UAE, this will involve an investment of $7-8bn in delivering about 1,100km of line across a countrywide network. The Union Railways Company has been set up to deliver the proposed lines over a period of five to seven years; the first tenders are expected to go out in the first quarter of 2010.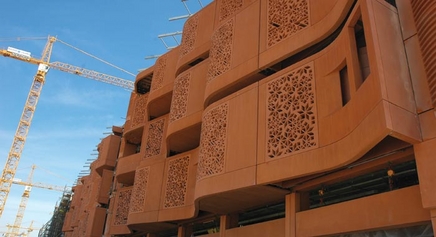 __________________
ASDFGHJK